ACRELEC's tailored solutions redefined our operations. Their cutting-edge technology streamlined ticketing, curbing potential revenue loss. We're thrilled with the results and the seamless integration into our cinema environment
Jean-Marie Merizio - Point of Sale and Support Manager at Les Cinémas Pathé Gaumont
The Customer:
Pathé, a renowned name in the cinema industry, has been entertaining audiences since its establishment in 1896. With a rich history and a commitment to delivering the best customer experience, Pathé has become the world's largest film equipment and production company. Recognizing the importance of providing an optimal cinema environment and streamlining its operations, Pathé partnered with ACRELEC to address technology challenges and enhance its overall business operations.
The Concept:
Self-ordering kiosks in movie theaters and cinemas have transformed the customer experience. These self-service stations streamline ticketing and concession processes, eliminating long queues and reducing wait times. Customers can conveniently browse showtimes, select seats, and order concessions, enhancing convenience and efficiency. The integration of upselling prompts and personalized offers drives additional revenue opportunities.
The Challenge:
Pathé faced several pain points that prompted them to seek ACRELEC's assistance. One significant challenge was ensuring the long-term durability of their hardware infrastructure. Additionally, Pathé experienced a lack of structural and stable internal processes, leading to operational inefficiencies and potential revenue loss.
The Solution:
Through marketing analysis and digital strategies, Pathé identified the need for a comprehensive solution to overcome their challenges. They recognized that partnering with a technology provider like ACRELEC could offer the necessary expertise and innovative solutions to transform their operations and customer experience.
ACRELEC provided Pathé with a range of cutting-edge solutions tailored to their specific needs. The implementation included the deployment of the K55 Aurora Kiosk and S22 self-checkout, which seamlessly integrated into Pathé's cinema infrastructure.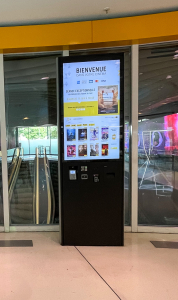 The K55 Aurora kiosk provided a seamless and convenient ticketing experience for moviegoers. Equipped with a 55" screen, the top half displays advertisements that can be seen from afar, while customers can easily browse available showtimes, select their preferred seats, and purchase their cinema tickets on the bottom half. A loyalty scanner allows customers to collect points that add to rewards.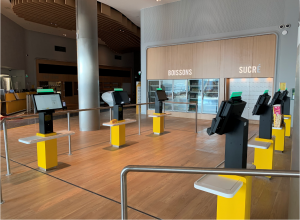 The S22 checkout solution was specifically designed to handle the sale of drinks, popcorn, and other refreshments. This self-service kiosk allows customers to quickly and easily browse through the available offerings, select their preferred items and complete their purchases without assistance.
The Results:
The implementation of ACRELEC's solutions brought about numerous benefits and positive outcomes for Pathé.
The K55 Aurora kiosk offered additional functionality that added value to Pathé and its customers. When the kiosk was on standby, its 55" screen was cleverly utilized to broadcast engaging content, including trailers, promotional videos, and announcements. This created an immersive and captivating atmosphere within the cinema lobby, keeping moviegoers entertained and informed while they awaited their turn to purchase tickets. By leveraging the downtime of the kiosk, Pathé maximized customer engagement and further reinforced its commitment to delivering an exceptional customer experience at every touchpoint.
With an intuitive interface and a user-friendly ordering process, the S22 checkout solution not only reduced waiting times at concession stands but also allowed Pathé to serve a larger volume of customers efficiently. By freeing up staff from manual transactions, the S22 kiosk enabled them to focus on providing personalized service, addressing more complex inquiries, and enhancing the overall customer experience.
ACRELEC's solutions proved to be the correct fit for Pathé's needs due to their customizability. By closely aligning with Pathé's specific requirements, ACRELEC ensured that their solutions seamlessly integrated into the existing infrastructure and processes. This customization played a crucial role in optimizing traffic flow, enhancing the cinema environment, and reducing operational pain points.
ACRELEC truly elevated our cinema experience at Pathé. Their tailored approach that enhanced efficiency and customer satisfaction made them an indispensable partner.
Jean-Marie Merizio - Point of Sale and Support Manager at Les Cinémas Pathé Gaumont