QTimer 2.0
Leverage natural desire for performance and achievement.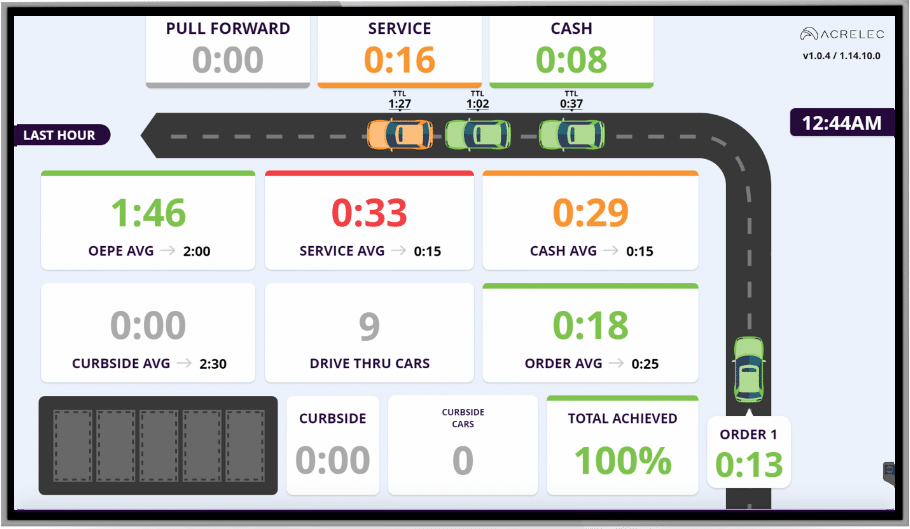 QTimer shaves 30 seconds off your Drive-Thru equating to a 13% increase in sales. The biggest Drive-Thru brands trust Acrelec: QTimer already track an average of 4.5 million vehicle per day
Keep an eye on your drive
Since nearly 60% of the revenue in the quick-service business comes from Drive-Thru sales, the way to increase revenue is through optimizing the Drive-Thru. Accurate data takes out the guesswork of optimization. QTimer 2.0 provides you with detailed, intelligent data, including minute-to-minute awareness of the customer journey to help you identify bottlenecks.



QTimer 2.0 uses a combination of two state-of-the-art hardware technologies. The Underground Vehicle Detection Induction Loop tracks the vehicle's journey as it moves through predetermined positions along the Drive-Thru, such as the Order, Payment, and Presentation windows. The data is then displayed in real-time on the QTimer 2.0 Dashboard helping your team optimize decision-making in real-time.
Drive Lane UI
Turn seconds into sales
For every 10 second reduction in average service time, you can expect to see about a 3.3% increase in vehicle count, equating to a 4.4% increase in sales: QTimer shaves 30 seconds off your drive-thru times by receiving real-time drive-thru information using the Drive Lane UI to quickly identify bottlenecks and allocate resource where they are needed to serve faster.

Our first-class solution is highly customizable. Focused solely on brand specific monitored metrics; the design of the display can be easily adapted to highlight the most important metrics.
Drive productivity with gamification
Research shows that crews perform best when working towards a goal. Gamification motivates workers, drives productivity, and improves business outcomes
Of employees are more productive when they use gamification

Of people believe that gamification inspires them to work harder

Of employees enjoy using gamification systems
EnGage©
your crew with gamification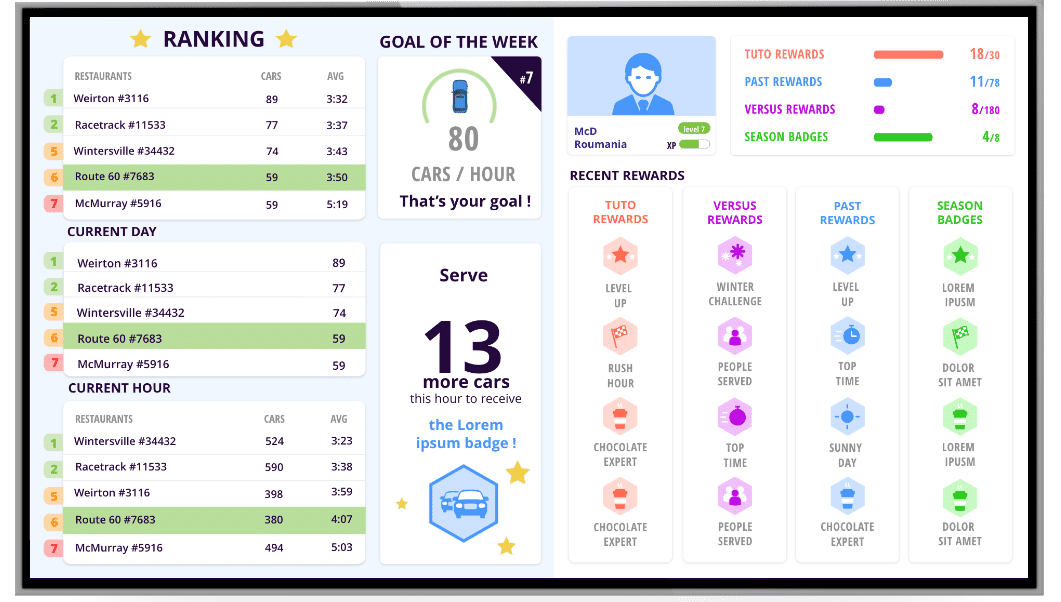 QTimer 2.0 comes with EnGage©, a powerful gamification software that lets restaurants organize competitions to increase personnel motivation. Our EnGage© Performance Board allows managers to challenge their crews in operationally based competitions, award badges for achievements, and create leagues for rivalries. Thanks to the friendly EnGage© Performance Board tracking efficiency, your teams will have fun while striving to be the best and win prizes!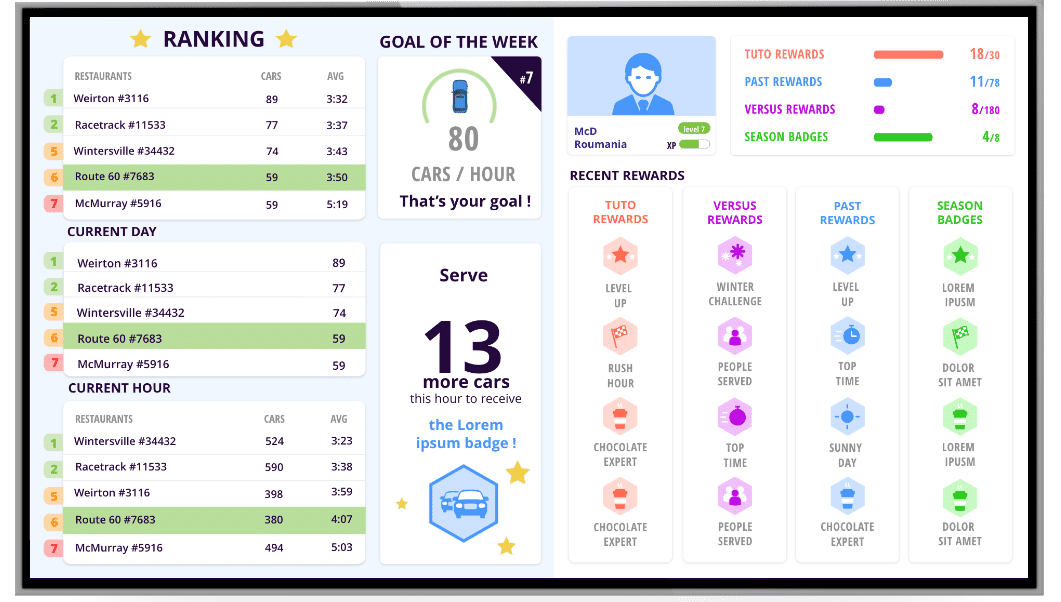 EnGage©
reward system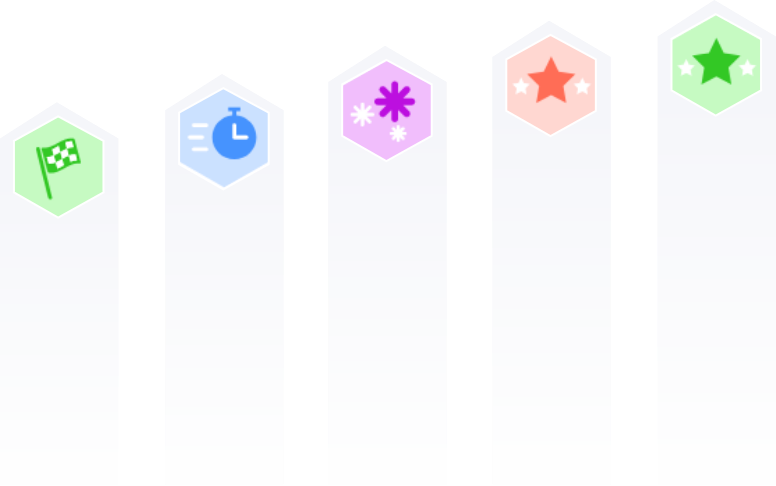 With QTimer 2.0, crews can earn rewards and avatars by achieving various goals set by a manager and continuously tracked in the background. There are three reward systems, typically taking place at the same time: everyday functions performed by the crew, reaching a weekly goal competing against other restaurants, and active challenges set by the restaurant manager.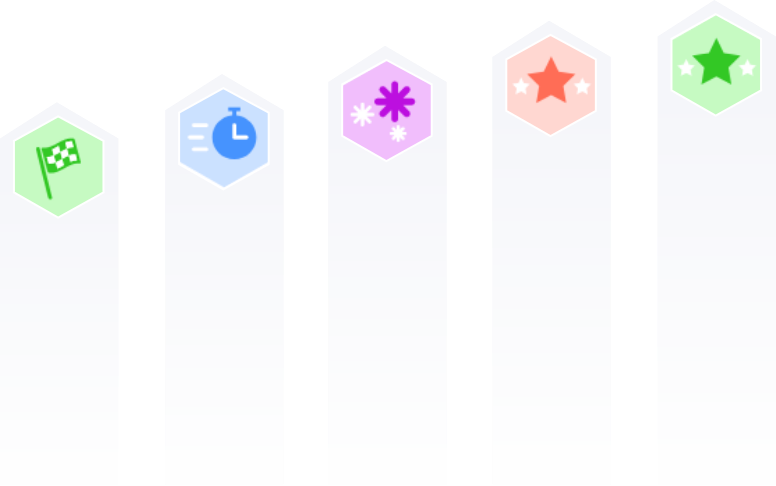 Ranking,
become the best in your network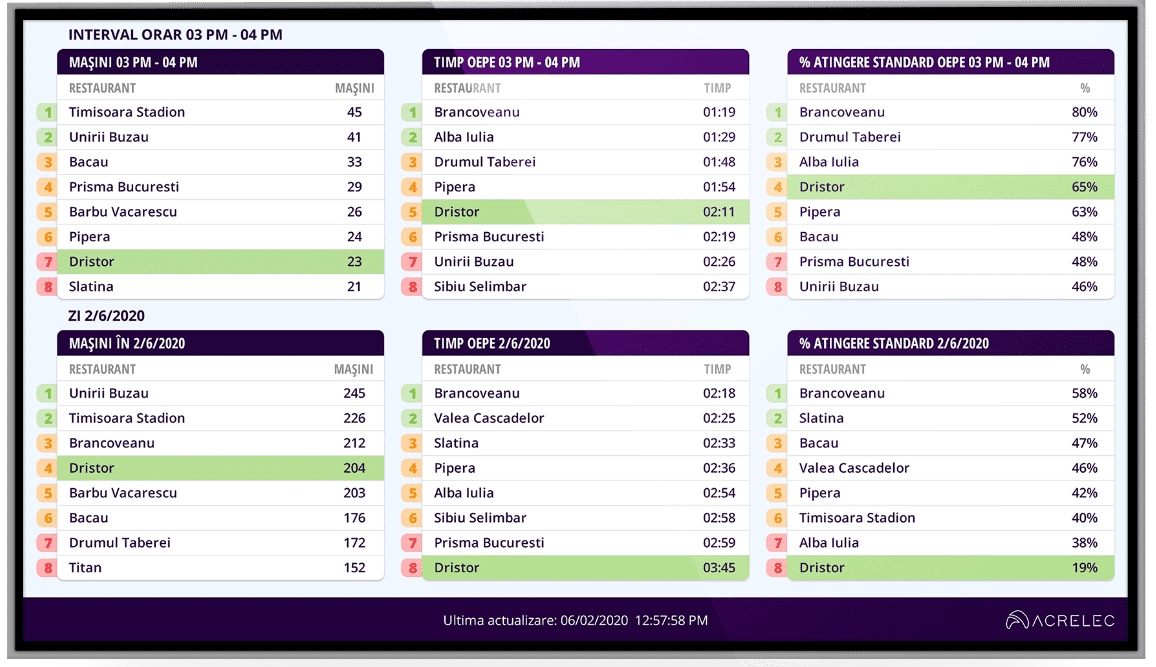 If EnGage© is not for you, our real-time ranking capabilities allow you to compare the performance of your Drive-Thru to that of other stores within the network, whether you are on location or working remotely on mobile devices. This smart technology is designed to motivate your crew members and improve their individual performance against other restaurants by setting clear goals for your location. This software allows Owner/Operators and managers to monitor how their restaurants are stacking up and to motivate crews at those locations. Nobody likes to be last, and visualizing what your store can do to achieve a higher rank will motivate crews to meet their goals!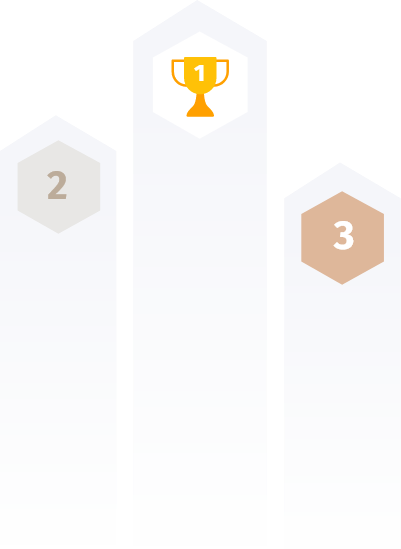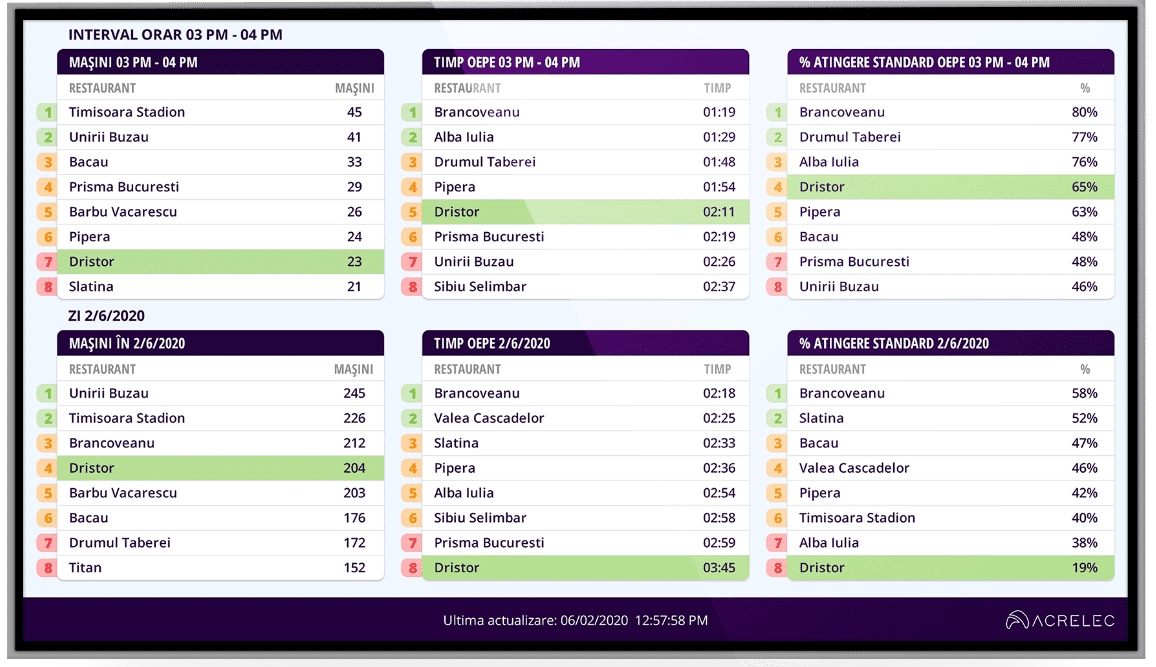 Qlik BI: next-level reporting
QTimer 2.0 comes with the powerful Qlik Business Intelligence Reporting system. The cloud-based system gives you a quick overview of Drive-Thru analytics, helping to optimize strategy and restaurant performance.
Through the graphical analysis, you can visualize KPIs such as average service times, total time in lane, greet time, cars per day, and 'ghost' cars, allowing for aggregation over time or comparisons between restaurants.
You can also go deeper and identify single vehicles that may have skewed Drive-Thru times. This supports restaurant managers in strategic decisions based on real data rather than assumptions.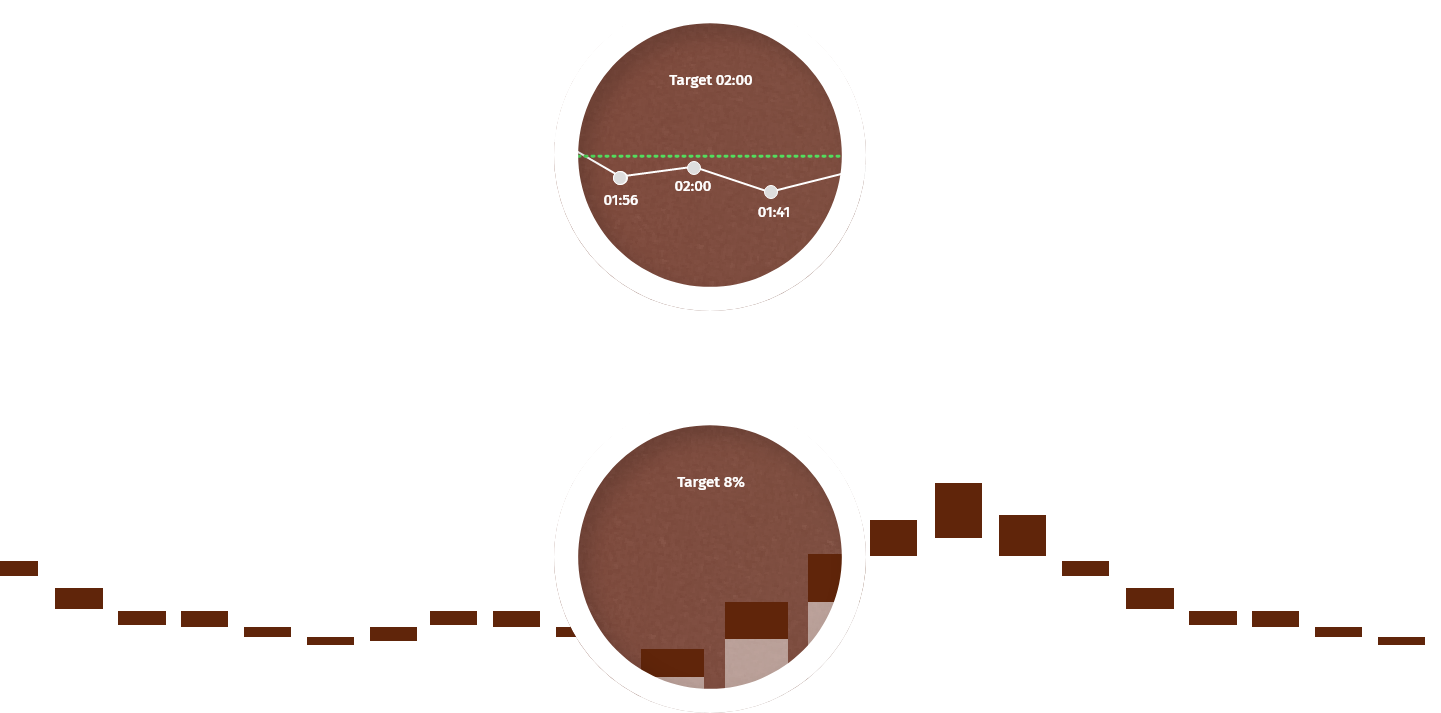 Affordable, but not at the expense of quality
Easy to install and run
QTimer 2.0 supports a large array of vehicle detection sensors (ground loops, pucks, ultra sonic…) and integrates with 50+ POS solutions. This means we can certainly leverage what you already installed. Maintenance and Support are easy with remote access for a low total cost of ownership.
Cost-efficient
Finally, QTimer 2.0 is affordable. It's on average 15% less expensive than competing solutions, without sacrificing any of the features and functions you expect for your Drive-Thru operation.
Enhanced mobile app
Our enhanced mobile app allows managers to adjust their restaurant's target goals on the go. The app also includes Ranking, EnGage gamification, and at-a-glance KPIs to help understand how a restaurant is trending and how it compares to others in the network.