When you have a system that never changes, you force the customer to adjust to you. We want to adjust to the customer instead
Manny Favela Operator
Customer
Founded in 2010 by previous McDonald's Corporate employee Manny Favela and long-time restaurateur Martin Hernandez, Burrito Parrilla Mexicana is a US-based quick-service restaurant (QSR) inspired by classic Mexican taquerias. This new concept caters to an increasing demand of customers seeking quick, customizable food options in environments that are aesthetically pleasing and conveniently located. Quality, authentic ingredients and unbridled hospitality elevate the customer experience.
Concept
Burrito Parrilla Mexicana has 11 restaurants in Illinois with single-lane drive-thrus, offering authentic Mexican street cuisine with specific influences from Mexico City. Favela credits Burrito Parrilla's success to its ability to strike a balance between providing good wages and benefits to its employees while delivering excellent quality food and service to its customers.
Challenge
Pre-pandemic indoor dining comprised 70-80% of Burrito Parrilla's sales. A standard, static drive-thru system was sufficient for its needs, and customers returned loyally for the restaurant's fresh, made-to-order Mexican cuisine. However, when indoor dining shut down and the drive-thru was burdened with handling an extreme demand of customers with an outdated ordering system.
Burrito Parrilla realized it must create modern customer experiences by digitizing the drive-thru ordering process to remain competitive. The owners sought a solution that enhanced speed of service, order accuracy, and overall operations while adapting to ever-changing customer needs—many of which were handled differently in the drive-thru environment.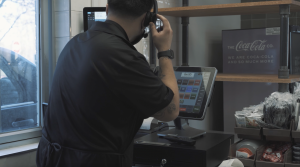 Solution
Acrelec Outdoor Digital Menu Board (ODMB) and Acrelec OrderMatic Audio (Audio System) enable Burrito Parrilla to not only improve operations but also enhance the customer experience.
Powered by Acrelec Creative Studio, the ODMB allows Burrito Parrilla to deploy campaigns, manage product attributes and embolden marketing strategies through a vibrant, HD display, increasing advertising potential.
Direct integration with their current PAR Brinks POS system helps Burrito Parrilla to update on price, product availability, graphics, and more from a singular device. Customers can see items added to their order in real-time, increasing order accuracy significantly—a major goal for the brand throughout the digital integration. Any modifications or substitutions made to the order also appears, saving time and improving accuracy in the customer journey.
Acrelec OrderMatic improved the communication between customer and crew significantly.
The quality of sound heard by the crew has drastically enhanced with background noise suppression—important for this location situated next to a busy intersection. Additionally, the live video stream accompanying the Audio system gives the crew a direct view of the customer allowing them to see when a guest is ready to order.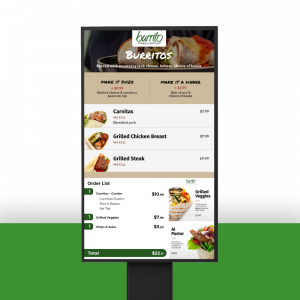 To see what the cashier is entering on the POS system live allows the customer to correct any mistakes before the order is even set in motion!" explained Favela. "This has gone a long way to reducing the number of errors we make and it ensures that the customer gets the correct order.
20%
increase in drive-thru sales
Results
Burrito Parilla's drive-thru used to make up 15-20% of sales—now, it is 30-40% of sales. Since installing Acrelec's solution, they have experienced more meaningful customer interactions and almost eliminated communication errors.
"When we started this process, we wanted to partner with someone who would evolve with us," Favela added. "We didn't want a solution that would stay in place for 10-20 years because we know that the business changes rapidly. We wanted to team up with someone who would always look at the challenges and solutions using the same system but working on updates to address whatever problems we face".
We wanted to team up with someone who would always look at the challenges and solutions using the same system but working on updates to address whatever problems we face
Manny Favela Operator
Watch the video here: