With ACRELEC's self-checkout solutions, we made this often-unpleasant moment become a pleasant experience.
Loic Le Moaligou - Owner/Operator
Concept
Loic Le Moaligou founded Bon D'ici to showcase local and artisanal products and their producers. The large covered market is where customers can find regional food sourced directly from small farms that have been personally visited and given a stamp of approval. Bon D'ici works with over 100 local farmers who harvest thousands of products, including fruits & vegetables, dairy, meats, charcuterie, fish, groceries, drinks, bread, and more. Together, they uphold Bon D'ici's strong values that food should be fresh, locally sourced, and easily accessible to customers.
Bon D'ici wants to feel simple, airy, and an experience in itself. This is accomplished by allowing customers to shop independently while guiding their journey. From the entrance to the exit, Bon D'ici has implemented innovations to create a new shopping experience out of an ordinary purchase. Thanks to recent developments in self-checkout technology, the store can operate almost entirely self-service.
Challenge
Today's customers expect a smooth checkout process and easy handling with many payment options—grocery stores are struggling to meet the demand. Given the challenges the food service industry faces, like labor shortages and supply chain backups, stores must operate as efficiently as possible. For Bon D'ici, their team member's time is better spent guiding products and ensuring a positive customer experience than ringing up items.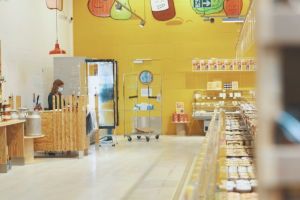 Solution
Bon D'ici responded to these challenges and became an almost entirely self-service store by integrating ACRELEC S22 Lite self-checkout stations. The equipment's strategic placement and thoughtful components, such as a light pole and sound signals, give customers independence at checkout while offering an optimal grab-and-go experience. The large 22-inch touch screen also provides an enticing and intuitive platform to encourage customer ordering at checkout. Staff is always present in the checkout area to help support the customer throughout the collection phase to optimize the checkout journey and keep customers happy.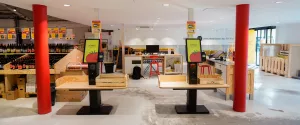 What mattered to us the most was that we wanted a solution far from a supermarket terminal. We found the S22 Lite to be an incredibly innovative design, and we liked the vertical screen, which resembled a tablet format that most consumers already use daily.
Loic Le Moaligou - Owner/Operator
Results
The innovative S22 Lite gives Bon D'ici customers control and provides a faster, more effective checkout experience without compromising selling space. The solution scans a basket of five items in 20 seconds, helping free up team members for more value-add activities. Hindrances such as changing receipt paper rolls and operating a cash register no longer slow down operations, resulting in additional sales. The added control and faster, more effective checkout experience are why most Bon D'ici customers choose self-checkout with ACRELEC's S22 Lite.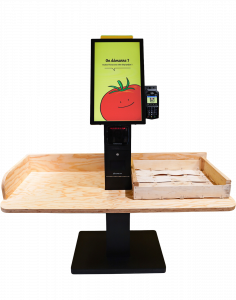 We are delighted with our ACRELEC products as well as the sales and technical team that supported us throughout the project phase and who continue to follow us, and that is why I recommend ACRELEC.
Loic Le Moaligou